University Experience Year
Higher Education
With Kaplan International
University Experience Year
Kaplan's Academic Gap Year
Learn more
Learn English and study at an American university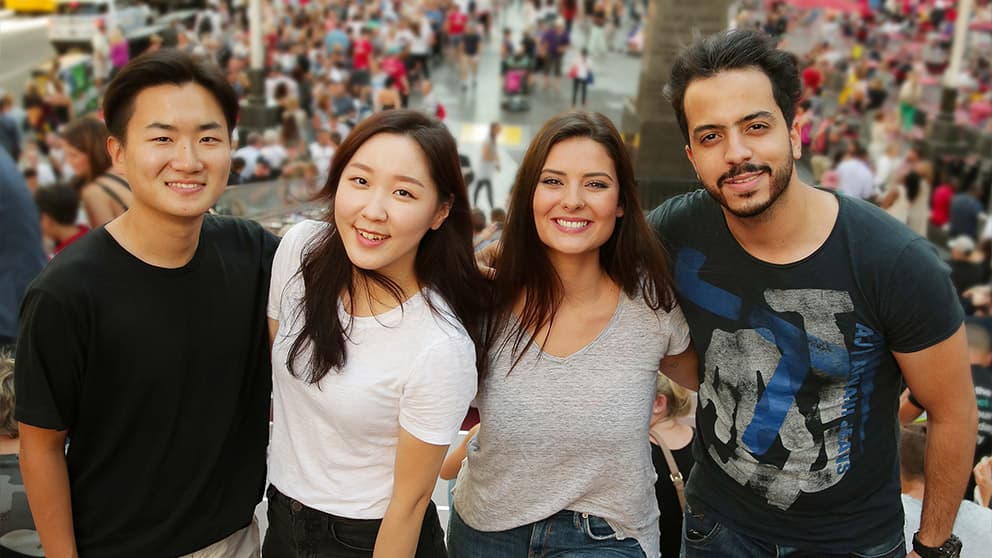 Structured like a typical academic year, Kaplan's University Experience Year is designed to introduce you to life in a real American university while studying English at Kaplan.
Over two semesters (32 weeks), you will build advanced fluency in English, strengthen your critical and analytical thinking skills, gain in-depth experience of a real-life English-speaking academic environment, and achieve valuable academic credits from one of our prestigious American university partners.
You'll take English classes at a Kaplan school during both semesters, and in semester two you'll also attend additional credit-bearing classes at one of three prestigious university partners.
After Kaplan's University Experience Year, you'll be more than ready to reach for your goals – you'll be on your way there.
DOUBLE YOUR ACHEIVEMENT
Simplified Admissions
As a student of the Kaplan University Experience Year, you'll only need to apply for your F-1 visa once and can use your Kaplan I-20 for both Kaplan and the partner university.
IMMERSIVE LEARNING
Using your new English skills you gain from studying in a Kaplan school, in the second semester you will study alongside American students and build lasting confidence, independence and self-belief.
Specialized language training
Achieve advanced fluency and learn the specialized vocabulary you need to write sophisticated essays, join debates and deliver presentations in English.
Transferrable credits
Gain 3 – 6 credits from an American university in semester two and use them to support a future degree application.
Three Prestigious Universities
Take your credit-bearing classes in semester two at one of three highly renowned university campuses, each located close to your Kaplan English school.
Kaplan's Partner Universities
UC Santa Barbara
Pace University
George Washington University
Course Overview
35 weeks (including study break)
Pre-sessional English Classes
If you haven't yet reached an Intermediate level of English, you can choose a package of pre-sessional English classes before your first semester begins.
English training and orientation
Intensive English training at your Kaplan School will help you reach the advanced proficiency you need to thrive in an English-speaking academic setting. Ahead of semester two, you'll receive specialist preparation for your college experience, including campus tours and help completing the enrolment process.
Our university partners recognize Kaplan's English levels. You'll begin college classes with the equivalent of TOEFL level 80 or above, but you won't have to sit a separate TOEFL exam in order to start your classes.
Study Break for 3 weeks
After a semester of intensive English training, you'll reach the required level of English proficiency to begin college classes.
Kaplan Advanced Classes
Continue to fine-tune your English skills with a range of English course options, including working towards Proficiency English, test preparation classes for TOEFL or iGrad, and English for Academic Purposes.
Credit Bearing Course
In addition to your English lessons at your Kaplan school, you'll also attend credit-bearing classes in your chosen subject alongside students at your selected university.

Prices & Add-ons
University Experience Year
$14,999
This fee covers your Kaplan tuition in all locations, and includes:
English tuition – 21 hours per week
Complementary K+ Online and K+ Learning Clubs – 5.25 hours
Orientation of the school, city and partner university campus
University Admission Application Sessions – one-to-one (Semester 1)
Academic Support Sessions - one-to-one (Semester 2)
Access to K+ Online Extra, during your studies
* Other options available:
Additional one-to-one lessons, test preparation upgrade, intensive upgrade (6 extra hours language training per week), medical & travel insurance, airport transfers
Partner University Courses & Accommodation
There are a range of courses and accommodation options in each city. Prices are in addition to your University Experience Year Fee and will vary depending on your choices.
U.C. Santa Barbara
Pace University
George Washington University

Credit bearing course

$281 - $335

Credit bearing course

$1016 - $1700

Credit bearing course:

From $1,690

$290

$600 - $990

$335

$615

$230

$540
* You can take one college class for three credits, or two classes for six credits. All credits are transferrable. Please talk to one of our advisors to confirm exact prices.
How does it work?
Kaplan's University Experience Year offers you world-class English language training alongside tailored academic support. We'll help you navigate the American college experience with ease.
What to expect
Semester 1
Intensive English Training
26.25 hours of intensive English tuition, including Specific Skills sessions and access to K+, our bespoke learning materials.
Orientation
Orientation sessions include a campus tour of your chosen university, a walking tour of the city, and group seminars introducing you to the US classroom experience.
Admission counselling
Individual guidance to help you through the process of choosing your credit-bearing course and enrolling at your chosen university, including assistance with application forms and help meeting deadlines.
Semester 2
Advanced English
Continue to fine-tune your English skills with a range of English course options as you continue to study in your Kaplan school, including working towards Proficiency English, test preparation classes for TOEFL or iGrad, and English for Academic Purposes.
Academic support
Personal support to help you get the most out of your studies, including assistance with the vocabulary of your course subject, guidance on academic writing and lecture comprehension, and project coaching.
Academic credentials
At the end of your course, you'll gain a Kaplan certificate to formally recognise your achievement in English (accepted in lieu of a TOEFL score by several universities around the world), as well as 3 – 6 credits from one of our partner universities.
* Each week you receive
20 English lessons (15 hours)
Master difficult grammatical structures, fine-tune your pronunciation, read complex texts and build a large working vocabulary.
8 specific skills sessions (6 hours)
Eliminate your weaknesses, explore your interests or prepare to achieve the qualifications you need.
7 K+ sessions (5.25 hours)
Our exclusive K+ Online and K+ Online Extra materials help you reinforce progress made in class and provide instant feedback, while our teacher-led K+ Learning Clubs allow you to socialize and practice your language skills at the same time.
What to expect
Simplified admissions
When you choose Kaplan's University Experience Year, you'll benefit from world class tuition without having to go through the highly competitive admissions process. You won't need to sit any additional tests to begin your college classes: your Kaplan certificate will be accepted in lieu of a TOEFL score.
Your college transcript
When you complete your University Experience Year, you'll receive a transcript from a prestigious American university, recording your classes, grades, and credit hours. If you're planning to take an undergraduate degree in the US or Canada, you can use your transcript both to support your application, and to count towards your eventual degree.
Enrolment requirements
The credit-bearing course fees range from $281 to $1,690 per credit. This amount will vary depending on the university partners and the course availability, as well as other additional fees applicable to each university.
Student Testimonials
PO-CHEN HSIEH
Studied at Kaplan NY Empire State
Student Testimonials
MARIA DANIELLA RAMOS RODRÍGUEZ
Studied at Kaplan Berkeley
Student Testimonials
YUTIAN CHEN
Studied at Kaplan Santa Barbara
Contact Us Now
Please provide the following information and we aim to respond within 48 hours